군사 요새이자 섬의 감옥이었던 유서 깊은 과거부터 놀랍도록 다양한 야생동물과 장엄한 경관까지, 이 국립 랜드마크는 많은 것을 제공합니다.
About a mile off the coast of San Francisco sits a small island that was once a fort, a military prison, and a maximum-security federal penitentiary: Alcatraz. As one of the most notorious prisons in the world, it held infamous American criminals including Al Capone, Robert Franklin Stroud (the "Birdman of Alcatraz"), and George "Machine Gun" Kelly. During its 29 years as a prison, the staff claimed that no inmate successfully escaped — strong winds and frigid waters made escaping practically impossible — though five men have been mysteriously listed as "missing and presumed drowned." And, though you've probably heard of Alcatraz because of pop culture references and the movies made detailing the many escape attempts, there's a lot more to discover about the island than you'd think. For example, did you know that in 1969, the Indians of All Tribes occupied Alcatraz for 19 months in the name of freedom and Native American civil rights? Or that the island is the site of the West Coast's first lighthouse? Or that the word Alcatraz dates back to the archaic Spanish word for "pelican," and that the gardens planted by families of prison guards developed into a nesting habitat and sanctuary for a diverse population of birds and other wildlife years later? You can learn all sorts of exciting facts and hear detailed stories of the island's past when you visit — and this year is the perfect time to go since the island is celebrating its 50th anniversary of becoming a public park.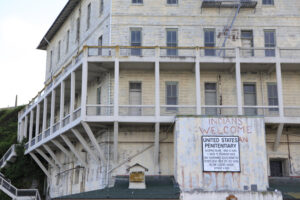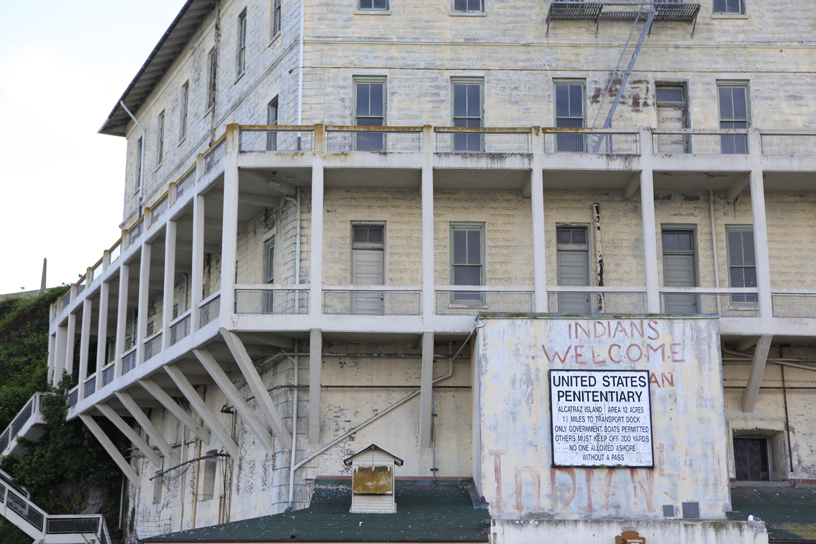 From its storied past as a military fort and island prison to its incredible variety of wildlife and spectacular views, the National Landmark has a lot to offer. Not sure where to start? No worries: Getting there is easy since ferry boats depart from Pier 33 every thirty minutes or so during the day, but we recommend going on a cruise and a guided tour since those are the easiest way to ensure you get the most out of your time in the bay. We're so excited to celebrate the half-century anniversary of Alcatraz opening as a public park, we've rounded up a few awesome — and exclusive — ways to visit and enjoy the island.
Alcatraz Day Tour – Ready to step back in time? If so, you're in luck: During the Alcatraz Island Day Tour, you'll be able to explore the windswept island and learn about its layered history through outdoor interpretive signs, a Discovery Guide Island map, and fascinating exhibits. Rangers will be stationed around the island to assist visitors and answer questions, and the tour includes admission to the new permanent exhibit "The Big Lockup: Mass Incarceration in the United States," along with access to outdoor historic spaces such as Eagle Plaza, the Recreation Yard, the Sallyport, and the Rose Garden, and the New Industries Building — the latter of which includes a fascinating exhibit commemorating the 50th anniversary of the influential Occupation of Alcatraz by Indians of All Tribes.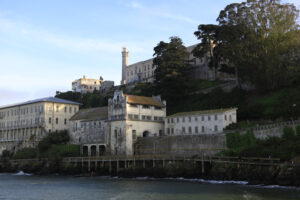 야간 투어 – If you're looking to experience the many moods of Alcatraz Island, there's no better way to go than with an evening visit. When you embark on the Alcatraz Night Tour, you'll get to enjoy the beauty of a sunset silhouetting the Golden Gate Bridge, experience a cell door demonstration, hear compelling stories about the Island's history and residents, and sit in on evening talks by expert historians. This exclusive program is limited to just a few hundred visitors per evening and includes special programs, tours, and activities not offered during the day.
Behind the Scenes – For the most exclusive, inside look at Alcatraz, you can't beat the Behind-the-Scenes Tour, which features areas previously not available to the public. You'll join a group of 30 people or fewer on a guided adventure to explore clues to the island's fascinating past. (Get ready to really explore folks — we're talking about a tunnel here, an underground jail there, and special gardens with stunning views.) Artifacts, hidden doorways, and stories will satisfy your passion for Alcatraz's secrets, and there are ample opportunities to engage and connect with your tour leader and fellow participants, capture unusual photos, and discover off-the-beaten-path areas of Alcatraz that are closed to regular visitors.
Whichever way you decide to visit and enjoy Alcatraz Island, make sure you wear comfortable shoes, put on lots of layers (it gets windy!), take lots of pictures, and reflect on all of the island's rich, layered history — and most of all, have fun!