Experiencing fireworks in San Diego is a sight to behold! Fireworks can be seen for certain holidays, events, and from local attractions. If you're wondering where to watch the fireworks in San Diego in 2023; we've got you covered. Pack your lawn chair, beach blanket, and your friends, and get ready to be dazzled. You can't beat seeing the fireworks display from the water. Activities such as sightseeing cruises allow you to experience fireworks from a whole new perspective -on the water! Relax with a 4th of July Premier Dinner Cruise as you dine, dance, and drink before the sparks fly with a spectacular show, all while viewing the city's architecture and local landmarks.
¿Cuándo se celebran los fuegos artificiales de San Diego?
San Diego has dozens of holiday celebrations throughout the city. Commemorate the 4th of July in San Diego with the best parades, picnics, and celebrations around. Check out the schedule and locations here. The most popular and largest event is Big Bay Boom which is free fireworks show with more than 750,000 people expected to attend. The Big Bay Boom show is displayed from four barges on San Diego Bay. The fireworks are scheduled to start at 9:00 pm, lasting 15-20 minutes including the grand finale.
Fireworks are not just for the 4th of July! Another great option to see them in San Diego is on NYE! New Year's Eve is one of the most popular times to take a cruise, and it's not hard to see why. A San Diego New Year's Eve Premier Dinner Cruise offers a great way to escape the cold weather, spend time with family and friends, and enjoy some of the most amazing fireworks displays at sea. Plus, cruises offer a variety of fun activities and entertainment options to keep everyone in the family happy and ring in the new year.
Dónde más ver los fuegos artificiales en San Diego
San Diego is full of unique neighborhoods where you can see fireworks in 2023. Fireworks are not exclusive to the 4th of July. There are several opportunities throughout the year to enjoy them. Some popular fireworks-watching areas include: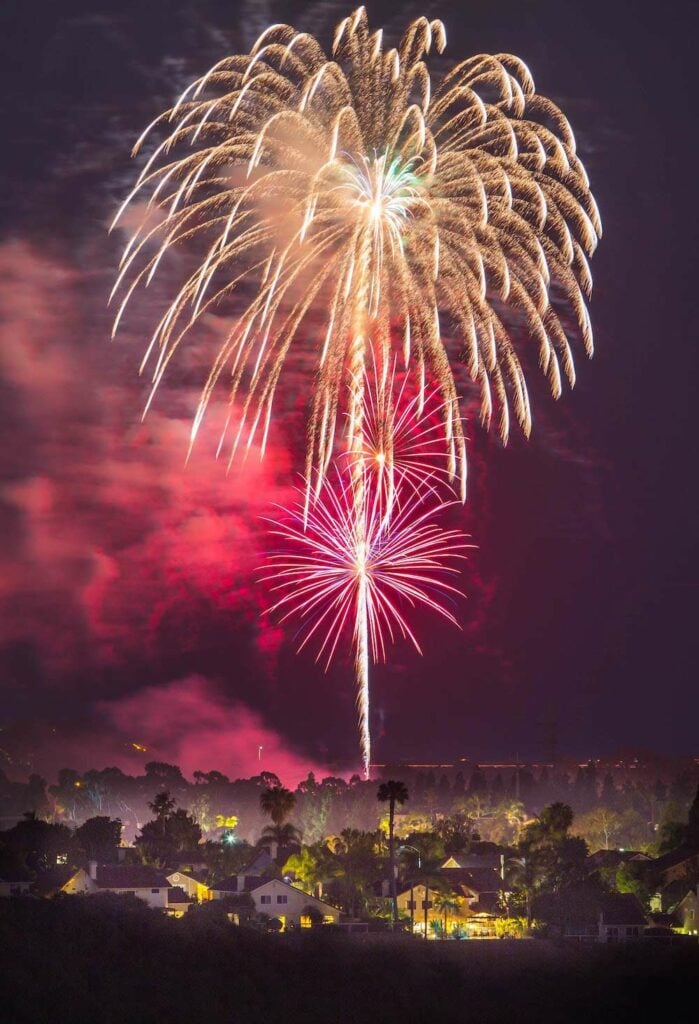 Isla del Refugio
One of the best spots in the city, Shelter Island has been a local tradition for viewing fireworks for many years. It is a perfect location to set up for a holiday with fireworks in San Diego. In honor of Independence Day, this nonprofit entity coordinates annual fireworks displays at Crescent Beach. This family-friendly event is over 60 years old!
Isla del Puerto
Harbor Island, which lies between Shelter Island and downtown San Diego, is another top fireworks viewpoint in San Diego. Harbour Island is filled with various restaurants and hotels so the celebrations can last all night long. It is an amazing location to see the fireworks as well as all the boats cruising the water.
Embarcadero
Con puntos de visión privilegiados tanto en el extremo norte como en el sur de la playa, Embarcadero es uno de los lugares preferidos por la población para ver los fuegos artificiales del 4 de julio y de Nochevieja. El muelle de Broadway, en el extremo norte de la playa, ofrece puntos de visión sin obstáculos de los fuegos artificiales de San Diego. En el lado sur, el Centro de Convenciones de San Diego cuenta con una enorme cantidad de espacio para ver los fuegos artificiales, además de un amplio aparcamiento.
Seaport Village o Ferry Landing
Depending on what you are wanting to do, Seaport Village is a prime viewing spot for the fireworks display, in addition to other holiday celebrations as well. Seaport Village offers visitors a lot of shopping and dining opportunities. You can choose a spot along the harbor to watch the burst of fire explode over the water.
Enjoy a patriotic day by the bay with food, festivities, and so much more. Relax to live music at this free event. Make sure you stake out your spot early and bring a blanket or chair (and of course some snacks and drinks) and be prepared to be dazzled by the amazing fireworks show at approximately 9:00 pm. Take advantage of all the city has done to prepare for the crowds by using public transportation. Parking fills up quickly so be prepared and plan on arriving early, really early.
Top of the Hyatt
Located at the top of the Manchester Grand Hyatt Hotel, this impressive lounge offers sweeping harbor and skyline views. Spectators will enjoy an experience like no other. You can reserve a table or booth in the lounge and watch the show from above at sky level.
SeaWorld
If you want a festive show filled with pyrotechnics, don't miss the special fireworks display at SeaWorld. There are numerous showings. Check the schedule for dates and times.
Fiesta Island
San Diego's fireworks displays are a traditional all-American celebration of Independence Day. A great spot to see the professional fireworks display is Fiesta Island. It is a great spot to catch fireworks from Sea World while enjoying scenic views of mission bay. The beach is open until 10:00 pm and dogs are allowed off-leash so the whole family can go for a swim. Grab your blanket or chair and claim your spot and bring the whole family to enjoy a fun-filled day along with unparalleled views. Be sure to bring some food and drinks for the day if you plan on staying for the show.
Cruceros con cena en San Diego
City Cruises has various dinner cruise options for those looking to have a unique experience with an amazing spot to watch the fireworks. Viewing the San Diego fireworks from the Bay allows visitors to have a more relaxed and serene experience, with jaw-dropping views of the city and surrounding landmarks.
Cena-crucero con fuegos artificiales del 4 de julio
For an unforgettable night of celebrating the nation's independence, the 4th of July Premier Dinner Cruise is the best option in the city. This 3-hour long dinner cruise comes with a tour of the bay that offers beautiful sightseeing points in the city. While enjoying a delicious dinner and drinks with those closest to you. Dance the night away on open-air decks and observe fireworks like never before!
Cena-crucero con fuegos artificiales en Nochevieja
Ringing in the New Year aboard a fireworks cruise in San Diego is the best way to start the year off right! Enjoy a truly unique celebration and atmosphere that will provide all kinds of great photo opportunities and memories. Not to mention you will also be enjoying a 4-course plated dinner on the boat!
San Diego, also known as, "America's finest city," has some of the best spots to watch fireworks throughout the area. Whether you are looking to spend the day relaxing at the beach, cruising along the water, at a nearby theme park, or at a picnic with friends and family, there are lots of great options to enjoy fireworks.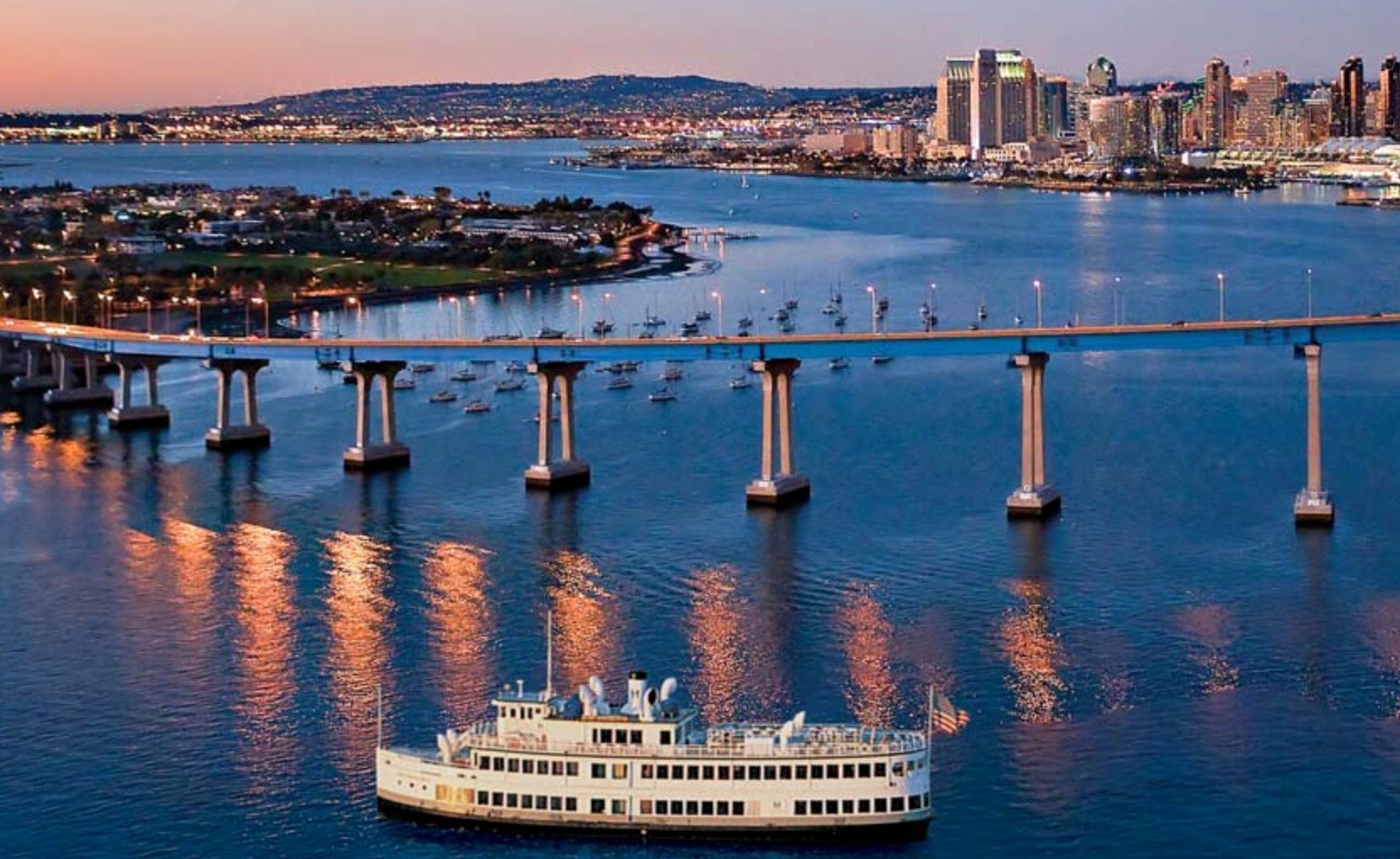 Preguntas frecuentes
¿Existe un código de vestimenta a bordo de los cruceros con fuegos artificiales en San Diego?
Dependiendo del crucero que tome, se le recomendará la vestimenta. Desde un atuendo informal hasta uno formal, hay un crucero de fuegos artificiales para todos los gustos en San Diego.
Where to best place to watch Seaworld fireworks in San Diego?
¿A qué hora suelen empezar los espectáculos pirotécnicos de San Diego?
Los espectáculos pirotécnicos de San Diego suelen comenzar a las 21:00 horas del 4 de julio. Sin embargo, algunos espectáculos pueden empezar antes o después dependiendo del evento específico.
¿Cuánto suelen durar los espectáculos pirotécnicos en San Diego?
Los espectáculos de fuegos artificiales en San Diego suelen durar entre 10 y 20 minutos. A menos que se trate de un evento especial, ¡entonces el espectáculo puede durar aún más!
Are fireworks legal in San Diego?
All consumer fireworks are illegal in the City and County of San Diego. This includes cherry bombs, sparklers, firecrackers, bottle rockets, and even poppers. Fines can be imposed and can be significantly increased depending upon the damage imposed.
Original post date: July 6, 2022
Ver más cosas que hacer en San Diego