Famosa por sus calles empinadas, su niebla tenebrosa, su famoso puente y su animada vida nocturna, la Ciudad de la Bahía ofrece mucha diversión bajo el sol. Es difícil saber por dónde empezar, por eso le ofrecemos un itinerario diario sobre dónde ir y qué hacer. No necesita guías ni agencias de viajes, porque nosotros le informamos de los mejores lugares y atracciones que no olvidará. Pongámonos en marcha.
Día 1: Cómo disfrutar de los lugares emblemáticos de la bahía
Alcatraz. Fisherman's Wharf. Muir Woods. With so many renowned attractions in the region, you have to be strategic in your planning and make sure you leave yourself enough time to appreciate the adventure. An ideal way to begin the day is on the open water with a 30-40 minute ferry ride from Fisherman's Wharf or Union Square heading to Muir Woods and Sausalito. This journey will showcase exquisite views of the Golden Gate Bridge, and once you reach your destination, beautiful redwoods abound. Nothing beats getting up close to the world's tallest trees, so it's no surprise that President Teddy Roosevelt declared them a national monument in 1908. Coupled with this exhilarating excursion is the opportunity to check out the nearby seaside town of Sausalito, hailed for its views, dining, shopping, and art galleries, which hits all the sweet spots for visitors to the area. The tour will take you around five hours, after which you can jump on the ferry back to San Francisco.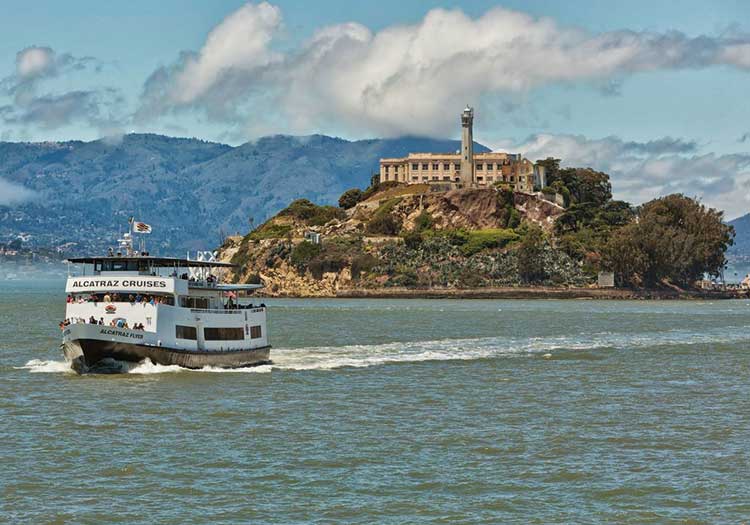 For late afternoon and evening, no trip would be complete without a visit to Alcatraz. Not only will you get to see the many faces of the island, but the sunset over the Golden Gate Bridge and Bay Area can't be beaten. If you're captivated by the lore of Alcatraz (and there are plenty of intriguing facts to learn), a tour of the island and prison—complete with the popular cell house audio guide—will provide all the details you're keen to discover.
Por supuesto, toda esta educación institucional puede hacer que tenga hambre de otras cosas también, como alimentos reconfortantes, que afortunadamente, usted tiene la libertad de devorar. Fisherman's Wharf es un lugar idóneo para que los amantes de la buena mesa saboreen experiencias como un Tour del Pan de Masa Madre. Incluso los panaderos aficionados que perfeccionaron sus recetas durante la pandemia apreciarán un bocado de los productos de la panadería Boudin. Si a esto le añadimos un paseo por Ghirardelli Square o por el muelle 39 para eliminar los carbohidratos, habremos aprovechado al máximo el día y la noche durante nuestras primeras 24 horas.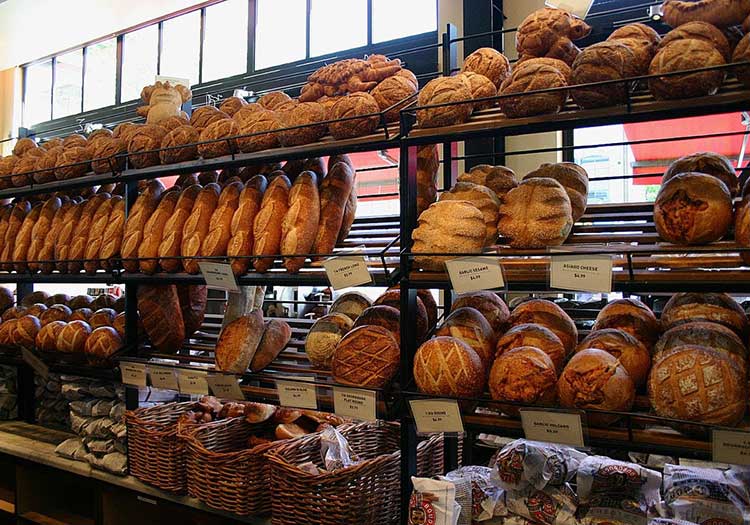 Día 2: Cómo darse un capricho cultural y culinario
¿Qué es una visita a San Francisco sin una visita a un museo de categoría mundial? Con tantas opciones culturales entre las que elegir, no hay excusa para no visitar al menos algunos de los favoritos de la ciudad. Para empezar, la Academia de Ciencias de California. Es uno de los mayores museos de historia natural del mundo (que también funciona como instituto de investigación) y alberga más de 46 millones de especímenes de todo el planeta. Un número tan grande significa que, para absorberlo todo, hay que dedicarle al menos entre 3 y 4 horas. El CAS abre de 9.30 a 17.00 de lunes a sábado, y de 11.00 a 17.00 los domingos (la última entrada es a las 16.00), así que prepárese.
If you're looking for a quick introduction to everything-then an Ultimate San Francisco Food Tour & Bay Discovery Cruise is a safe bet to get a glimpse of it all in the best possible way. You will discover exciting and diverse cuisine in unique family-run food establishments and discover the story of San Francisco through its food and iconic neighborhood while exploring North Beach, Chinatown, and Downtown, dipping in and out of delis, bakeries, taquerias, dim sum hot spots, and more culminating with a special San Fran dish at the end. Highlights of this tour include the history of the Bay Area parks, Alcatraz Island, and a relaxing 90-minute sightseeing cruise to soak in the scenic views and incredible skyline. Make sure your device is fully charged to enjoy the audio tour.
Para los amantes del arte, el Museo de Arte Moderno de San Francisco -unode los mayores museos de arte contemporáneo y moderno de EE.UU.- cuenta con un gran número de artistas de todo el mundo. Desde Ellsworth Kelly y Andy Warhol hasta Gerhard Richter y Andreas Gursky, la colección permanente -junto con exposiciones especiales limitadas- ofrece suficientes atractivos para satisfacer a cualquier espectador. El SFMOMA, el primer museo de la Costa Oeste dedicado exclusivamente a obrasdel siglo XX, no defrauda. Dedique al menos dos o tres horas a contemplarlo todo de 10:00 a 17:00 de viernes a martes, o de 13:00 a 20:00 los jueves.
To top off the day, fix your gaze on the water with a Premier Dinner Cruise. After all, isn't that what the Bay Area is known for? It's as easy as an ocean breeze to plan a date night that delivers fab food and picturesque views of the San Francisco skyline. A plated experience definitely makes some lasting memories. Departing from Pier 3 on the Embarcadero on Washington Street (South Gate), cruises set sail from 7:00 pm -9:30 pm on Sunday & Thursday (boarding at 6:30 pm) and 7:30 pm-10:30 pm on Friday and Saturday (boarding at 7:00 pm).
Live entertainment will set the mood for an unforgettable night out on the water.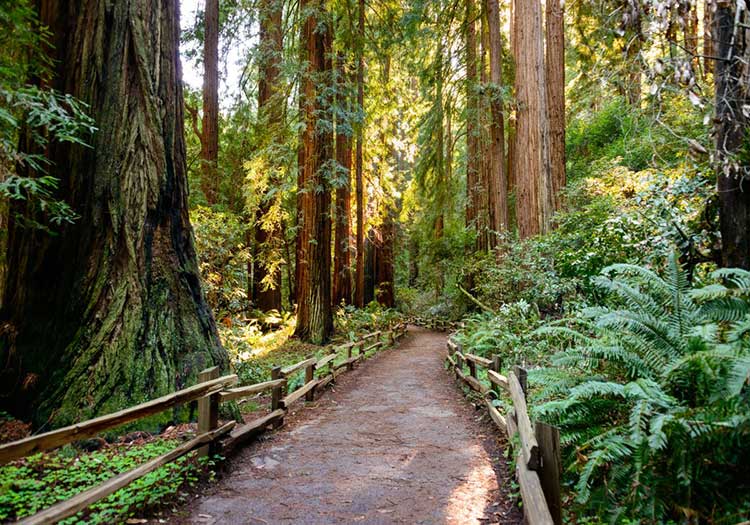 Día 3: Cómo explorar la naturaleza
One of the best things about the West Coast is the weather. With moderate temperatures year-round, the desire to be outdoors can be overwhelming when you visit, but that's easy to wrangle through exhilarating activities such as biking, hiking, and walking. For cycling enthusiasts, a Golden Gate Bridge bike tour is the perfect way to take in the city. Starting near Ghiradelli Square, riders get on the National Bike Path to travel along the waterfront and over the bridge. During the 3-hour outing (10:00 am to 1:00 pm, they'll be surrounded by spectacular views (and for sunsets, there are quite a few!) and have a chance to snap pics for the Gram at select stopping points.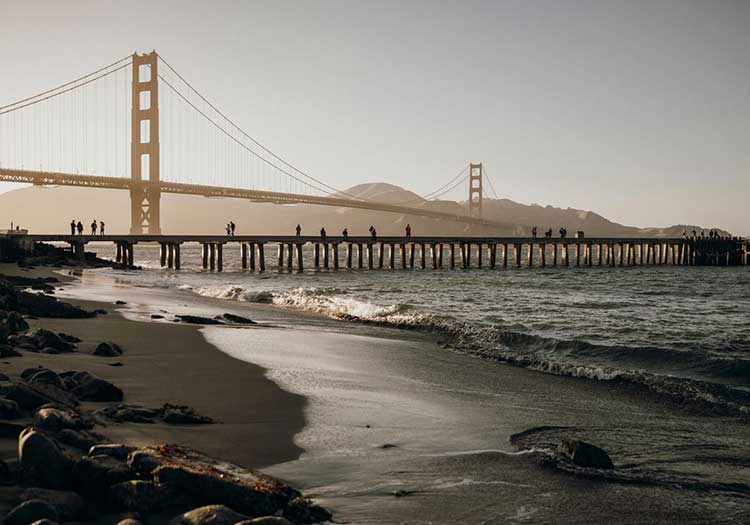 Speaking of fab photo ops, Golden Gate Park is flush with them, including the alluring oasis of the San Francisco Botanical Garden with its lush greenery and gorgeous flowers. A walk through this respite from civilization will take about two-three hours (7:30 am to 5:00 pm with final entry at 4:00 pm). Alternatively, the serene setting and majestic architecture of the Japanese Tea Garden is an hour well spent to revitalize the soul (9:00 am to 5:00 or 6:00 pm—depending on the season—with the last entry 30 minutes before closing time).
Wrap up your final day with an evening walking tour through San Francisco's iconic neighborhoods and areas. From Chinatown and the Embarcadero to Fisherman's Wharf and Ghirardelli Square, there's excitement around every corner—plus a range of diverse, delectable spots for dining. Looks like only one question remains: How fast can you pack?
PREGUNTAS FRECUENTES
Is three days enough time to visit San Francisco?
Most people find that 3 or 4 days is plenty of time to spend to cross everything off of your San Francisco bucket list. Of course, there is so much to see and do if time allows, you could spend more time taking a few day trips to see it all.
When is the best time to visit San Francisco for a three-day trip?
The best time to visit the City by the Bay is from September to November. Surprisingly, fall offers some of the warmest temperatures year-round and with fewer crowds than summer, you will be able to see more. Spring also has mild temperatures and less rain so that is a good option too.
When can I find the best rates for San Francisco?
If you're traveling on a budget, then you will want to visit the city in the off-season months of October-April. Most hotels and tours are more expensive in the summer since it is the busiest time for tourists.
Do you need to rent a car to visit San Francisco?
You will have no trouble getting around the city. San Francisco has excellent public transit, tour operators, Uber, and scooters to get you around town.
Original post date: February 7, 2023