Beantown is full of romantic restaurants that are sure to impress your main squeeze, whether it's Valentine's Day or another special occasion. You will fall in love with these gems whatever you are celebrating. Fancy, cozy, intimate, inexpensive, waterfront; the choices are endless, but we have you covered with top picks!
If you're looking for a romantic dining experience out on the water, why not try City Experience's Premier Dinner Cruise on Odyssey or a Signature Dinner Cruise on Spirit of Boston? Nothing could be more romantic than sharing a delicious meal under the stars while taking in stellar views of the Boston skyline.
If you'd rather eat your fill while getting your steps, there's always the Best of Boston food tour, which hits the highlights along the Freedom Trail, from the city's historic downtown to its charming North End.
What are the most romantic—and affordable—restaurants in Boston?
For a perfect date night in Boston proper, we've rounded up 10 romantic Boston restaurants with great atmosphere and great service that won't break the bank.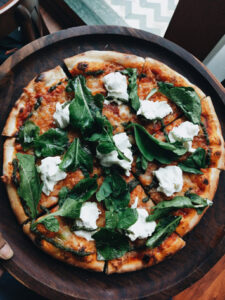 1. Piattini
At Piattini, the Tuscan-inspired cuisine is served in a no-frills atmosphere. The menu features a bevy of small plates that can be shared between you and your better half, along with regular-sized dishes featuring classic Italian ingredients.
2. Tres Gatos
Tres Gatos is a unique place in Boston. It has a dining room with a laid-back yet classy atmosphere, where fantastic Spanish fare is served, like tapas and paella. But the space also houses a book and music shop, which makes perfect conversation fodder for a first date or a special night out with your longtime Valentine.
3. Pastoral
If you and your love are keen on some top-notch wood-fired pizza and Italian antipasti, head over to Pastoral on Congress Street. The food is stellar, and the owners are devoted to working with local vendors for the ingredients used on the menu. The atmosphere is easygoing, and you'll get excellent service.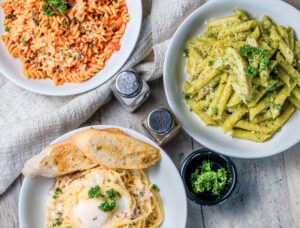 4. L'Osteria
If you're looking for an old-school Boston Italian restaurant to take your squeeze for Valentine's Day, L'Osteria fits the bill.
You'll find a menu loaded with classic Italian fare, like traditionally prepared pastas and homemade minestrone, as well as a solid list of wines available by the glass, carafe, or bottle. It's the perfect place to have your Lady and the Tramp moment.
5. South Street Diner
You may not think a diner would be a very romantic choice for Valentine's Day. Au contraire: There's nothing more fun than dressing up to the nines and having fancy drinks at a ritzy bar, then eating dinner at an old-school American diner.
South Street Diner has a homey vibe and a menu with delicious comfort food. And it's open 24 hours a day, so you could take your date out for dancing and drinks elsewhere, then refuel here afterwards.
6. Zuzu's Petals
What's more of a buzzkill than heading for a romantic night out in a place where everyone is staring at their phones? Enter Zuzu's Petals, a lovely, cell-phone-free wine and dessert bar, located on Boston's Inman Square.
The lo-fi theme spills over into the charming atmosphere, thanks to the vinyl records that spin as you savor delicious desserts over a bottle of wine. While Zuzu's Petals is a perfect spot to head after dinner, the menu also features some classic pre-dinner treats, such as charcuterie boards loaded with meats and cheeses that are the perfect accompaniment to an apéro.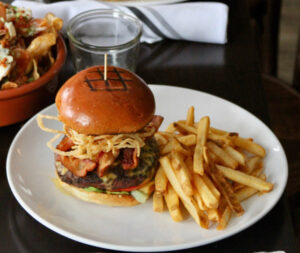 7. The Haven
For lovers of all things Scottish, the Haven should be just your cup of tea for a romantic dining experience in Boston. This mellow eatery features classic comfort food with no frills, such as fried chicken and burgers, as well as classic Scottish pub fare, like haggis and Scottish chowder.
8. The Beehive
If you're looking for a romantic spot for a great date night, including dining out and live entertainment, the Beehive fits the bill.
You and your squeeze will feel like you've been swept away to Paris's Pigalle quarter at this underground restaurant, thanks to its swanky cabaret setting and bohemian vibe. Throw back a few cocktails while sharing dishes from the wildly diverse menu, featuring aspects of cuisines from all over the world—and maybe even take in a burlesque show or a jazz concert to boot.

9. Grotto
This pint-sized intimate restaurant has a casual, cozy atmosphere that's ideal for a date night. Grotto's menu features a variety of French and Mediterranean dishes, such as duck confit and escargot, alongside things like spaghetti and meatballs and ricotta ravioli.
10. Contessa
Over on Newbury Street in Boston's Back Bay, you'll find Contessa, one of the classiest Italian restaurants in Boston, perched on a rooftop and featuring over-the-top decor and a most impressive wine list.
True, the main dishes can be a bit steep as far as prices go, but you could easily put together a satisfying—and less expensive—meal if you focus on the menu's assortment of authentic Italian pizzas and classic Northern Italian starters.
When considering the most romantic restaurants in Boston, Contessa is likely to pop into any local's mind, so be sure and reserve your table well in advance to enjoy its excellent service and Mediterranean-accented food.
Honorable mention 
*Judy's Bay 
We could not leave this restaurant out of our list, but it could break the bank for some. There is a $300 minimum spend per table, regardless of the number of guests. You could choose the Chef's Dinner option for an (ahem) better deal which will set you back $380 for the total cost which includes starters, soups, mains, specials, and dessert; as well as choice of bottle service (sake or champagne) for the table. You will impress your flame with flames as you snuggle up to their special fireplace booth while enjoying the freshest of seafood in every bite. The cozy atmosphere will get you in the mood and will make for a memorable night! 
If you are in Boston, you are in luck when looking for a romantic spot. Love is in the air, especially in Boston which ranks highly as one of the most romantic cities in the country. From glamorous rooftop restaurants with amazing views to intimate wine-and-dessert spots, you can get a little dressed up and hit the town with your loved one and create a night neither of you will forget with exceptional food, music, views, and drinks. Now that's amore! 
30. November 2022