Father's Day is a tradition celebrated in the United States, United Kingdom, Canada, and several other countries on the third Sunday in June. It is a day to honor the role a father plays in both family and society. In the early 1900s, fathers typically did not receive much credit for the influence they had on their children. However, in the 1970s, psychologists started recognizing the importance of fathers, and in 1972, President Richard Nixon signed a law declaring Father's Day will be celebrated annually. It is a day to celebrate the important male figure in your life, whether it is your brother, uncle, grandfather, or any other male that plays a significant role. You want to make sure that you show them how much they mean to you and the role he has played in shaping your life. So, how do you celebrate dear old dad and make him feel special in New York City? There are quite a few options to make him feel honored. Why not take him on a unique adventure that he will never forget – the water! Let us look at the many choices that you have in New York City.
Thanks to science, we know that the mere sight and sound of water promote wellness and induce relaxation. It only makes sense that being on a boat is one of the best ways to access the wellness benefits of the water, so let's dive into some options that he will love.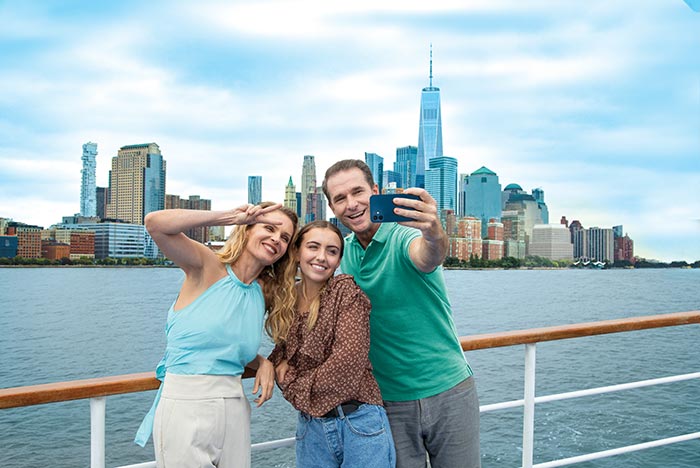 There is a unique feeling that city dwellers know all too well, and that is never fully relaxing aside from their once-a-year vacation. Take your dad on a boating adventure that will help him breathe easier, smile a little more, and provide him with life-long memories. Sail along the East and Hudson Rivers for a two-and-a-half-hour brunch cruise and enjoy a delicious buffet with freshly prepared entrees, salads, and desserts. He can sit back and revel in New York's iconic landmarks and soak up the panoramic views in style. While onboard, sway to the music with live entertainment, a full selection of wine and classic cocktails, and New York City's most impressive views in a European-inspired, glass-enclosed vessel.
If you ask Dad where he wants to eat for Father's Day, chances are he will not care as long as he is with his family. Taking him on a dinner cruise will be unexpected and certainly treasured forever. Let him show you his latest dance moves on board and get the whole family involved in some fun and interactive games to keep the laughs coming. Spend your evening on the water with a chef-prepared dinner buffet, classic cocktails, and incredible views of New York City. Celebrate with music and dining from a climate-controlled interior, or soak in the picturesque backdrop from open-air decks. A dinner cruise is perfect for the entire family and a unique and memorable way to celebrate. Do not forget your camera to capture some Instagram-worthy shots (especially of him dancing).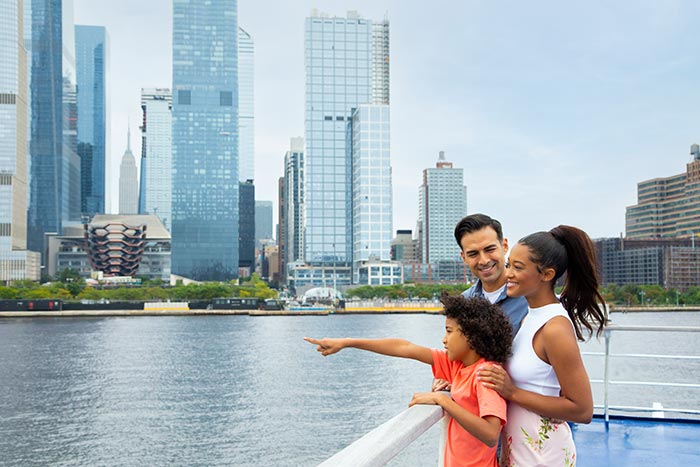 Planning a special day for your father can feel complicated, so coming up with an unexpected idea will make him feel extra special. All the adult siblings should coordinate the details and not leave it up to their mother since she may have her father, grandfather, or father-in-law to recognize. For the thrill-seeking or adventurous dad, visit the Edge, the highest outdoor sky deck in the Western Hemisphere with a one-of-a-kind design. The Edge is a new observation deck, so chances are, it is a view of NYC that your dad has not yet seen. The observation deck suspends in mid-air, and you will feel as if you are floating in the sky! You can look one hundred stories down through the thrilling glass floor and lean out over the city on angled glass walls to get 360-degree views of New York City. Give a toast to the old man while in the sky and tell him his jokes are funny (ahem). Consider heading to the Edge in the morning, around noon, or in the last hours before closing to avoid the crowds. The observatory also has a bar and restaurant where you can enjoy lunch or dinner surrounded by a movie-like view.
Let's face it, dads are contributing more than ever to family responsibilities and need sleep! Why not let him sleep in a little later before taking on a family adventure? Join him in becoming a tourist for the day and enjoy seeing the Statue of Liberty. Your tour starts when you meet your expert guide in Battery Park and take in some iconic buildings like Castle Clinton (America's first immigration station) and the Pier A Harbor House before hopping on a ferry to the Statue of Liberty. When you arrive at the island, you will dive into how the statue came to be and why it was close to not being built at all! This tour is one of the most cost-effective (cheapest) and easiest ways to visit Lady Liberty. Expert tour guides will tell you how Lady Liberty went from an unwanted passion project to the preeminent symbol of American freedom (dads love this stuff). You can soak up the scenic harbor while leisurely cruising to and from Liberty Island.
Most likely dad will be feeling a little hungry after the tour, so why not take him to enjoy a meal? There are quite a few options in the area, but it depends on your budget. If you want something more casual, Adrienne's Pizza Bar is a great choice where you can take your pizza to the patio for some of the best people-watching in the area. Just east of Battery Park and tucked into the historic waterfront district is where you will find this gem. Keeping with the patriotic theme, hang out where Washington himself did at Fraunces Tavern. There are a variety of items on the menu, where you will find traditional pub fare to global additions. Keep the nautical theme going (who doesn't love a good theme) and try Luke's Lobster, where you can't go wrong with a stuffed lobster roll. The fish are all sustainably sourced, keeping them fresh and flavorful. This eatery has a no-frills menu, so kids of all ages will enjoy it too.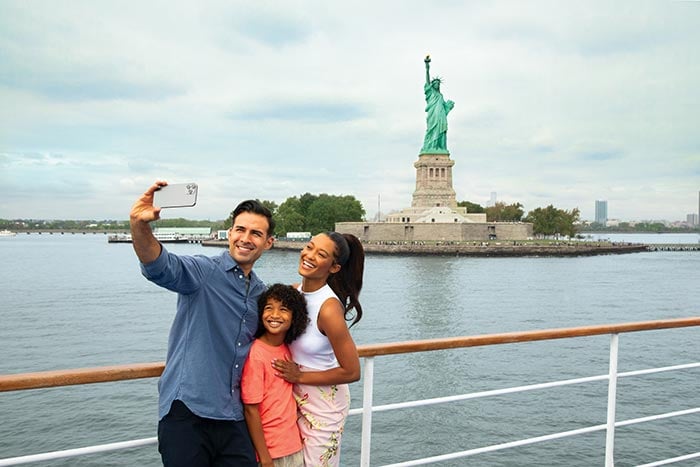 No matter what you decide, Father's Day is when you show appreciation to the man that has taught you everything you know. Although there are 1.5 billion fathers worldwide, you only have one, so make sure he feels special and loved. Father's Day 2024 in the bustling heart of New York City takes on an entirely new dimension when you embark on a journey with City Cruises. Whether you're a local or a visitor, City Cruises offers an unparalleled opportunity to celebrate this special day on the iconic waters surrounding the Big Apple.