SafeCruise by Alcatraz Cruises
We missed you, and we can't wait to see you on board. At Alcatraz Cruises, guests' well-being is our number one priority. Recent circumstances have only strengthened our commitment to providing the best possible visitor experience from start to finish. We are proud of our excellent safety/sanitation track record and Alcatraz Cruises maintains a rigorous process around cleanliness and hygiene. So, while you can still expect the same high standards and welcoming service, here are the extra steps we are taking to keep everyone healthy.
Our Commitment to Health & Safety
Alcatraz Cruises is dedicated to the health and safety of crew and guests. For the last 13 years, we have been recognized by international organizations and have maintained the ISO 45001 certification for our efforts and focus on the Occupational Health and Safety Management Systems.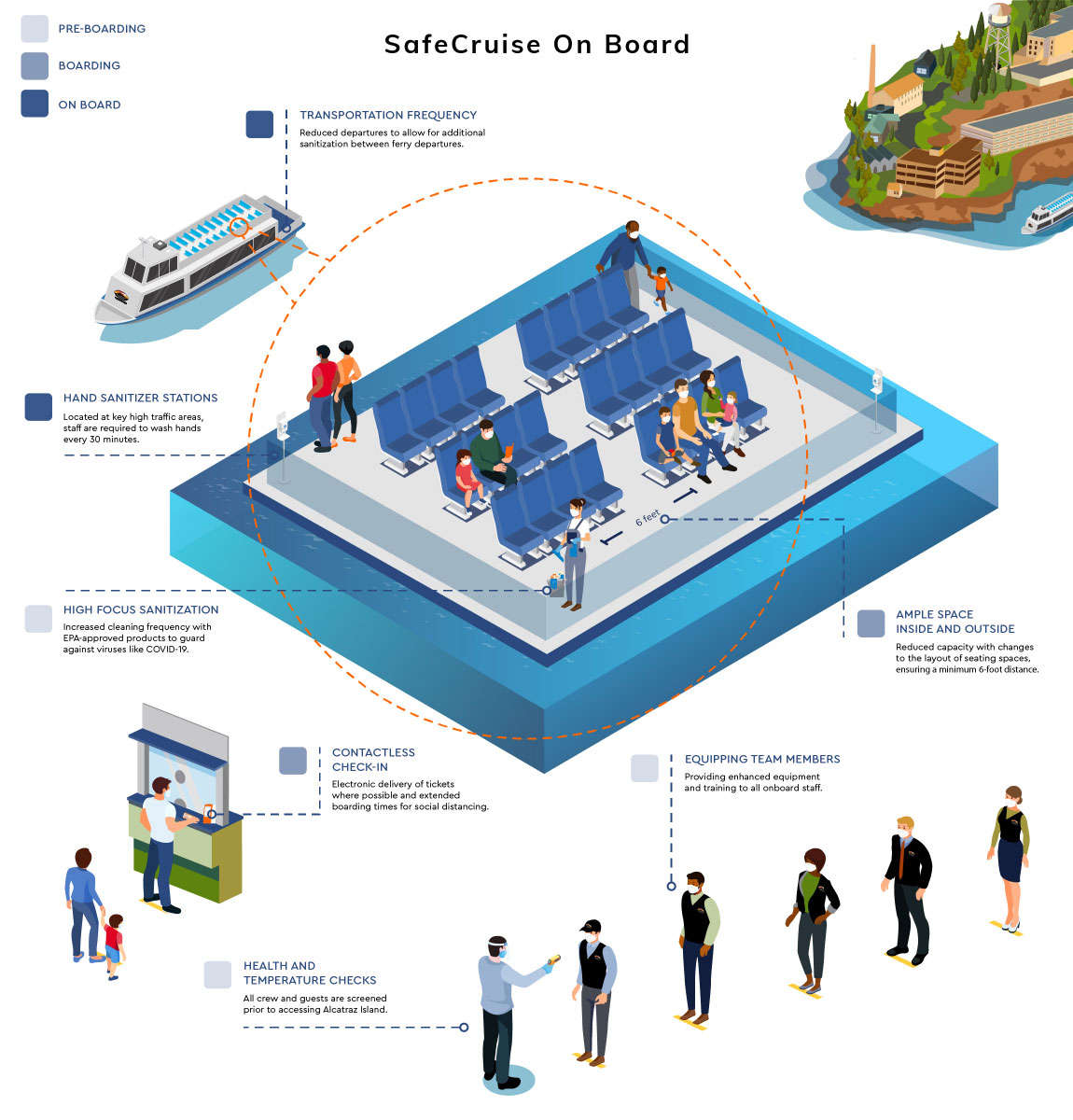 Pier 33, Alcatraz Landing
Daily health checks and temperature screening for all crew members.
Extensive crew training, increased hygiene, disinfection, and sanitation practices throughout our facilities.
Crew is equipped with the tools they need to provide increased protection such as gloves, masks, and face shields.
Dedicated cleaning crew throughout the day focused on high-contact areas throughout Alcatraz Landing, Pier 33.
Check-In/Boarding
A health screening and temperature check is conducted prior to entering Alcatraz Landing for all guests.
Contactless ticket booth check-in. Guests with electronic tickets may proceed to boarding area after passing safety screening.
All queuing areas are spaced accordingly to allow for social distancing.
Several portable hand-washing stations are available at Alcatraz Landing.
On Board
Dedicated crew focused on sanitization between each departure, cleaning high-contact areas using EPA-approved products specifically guarding against COVID-19.
Use of large vessels allowing for additional exterior deck space for social distancing while on board.
Hand sanitizer stations and physical distancing markers are located throughout Alcatraz Landing, on board the vessels, and on the Island.
Alcatraz Island
The Alcatraz Cellhouse is currently open to visitors taking the self-guided Cellhouse Audio Tour.
Due to social distancing requirements in the Cellhouse, there may be a lengthy wait for the Cellhouse Audio Tour. Please plan on a 3-hour Alcatraz Island tour experience, including roundtrip boat time.
Outdoor education and interpretive information is on display and located throughout the Island.
Reduced capacity to allow for social distancing.
Extensive outdoor space allowing for the best vantage points and views of San Francisco Bay.
Know Before You Go
We have been working with our National Park Service and Golden Gate National Parks Conservancy partners to ensure that we are providing a safe and enjoyable experience for our guests. As part of our new safety measures, we have implemented procedures to be aware of prior to their arrival.
WHEN GUESTS ARRIVE AT PIER 33, THEY WILL NEED TO BE SCREENED IN ORDER TO ACCESS ALCATRAZ LANDING, VESSELS, AND ISLAND.
ALL GUESTS MUST STAY PHYSICALLY DISTANCED FROM OTHER PARTIES: Please exercise caution and use our floor markers throughout to ensure you remain at a safe distance.
TEMPERATURE CHECKS: All guests will have their temperatures checked and results must be below 100.4°F or 38°C in order to proceed.
FACE COVERINGS ARE REQUIRED: All guests age 2 and older must wear a face covering. (Disposable face coverings and hand sanitizer will be available at Alcatraz Landing for purchase.)
All face covering should:
Be worn properly throughout the entire experience
Fully cover an individual's nose and mouth and allow the guest to remain hands-free
Fit snugly but comfortably against the side of the face
Be secured with ties or ear loops
Be made of breathable material, either disposable or reusable
Guests who do not have a face mask will not be permitted access to Pier 33, Alcatraz Landing and will not have the option to receive a refund
Please note a shirt over the mouth and nose does not qualify as a face covering.
OUR CREW WILL ASK THE FOLLOWING QUESTIONS:
Have you been diagnosed with, or tested positive for COVID 19?
Do you have any of the following symptoms?

Fever
Chills
Coughing
Shortness of breath or difficulty breathing
Pain or pressure in your chest
Recent loss of your sense of taste or smell

In the past 14 days, have you been within 6 feet of any person who has either:

Tested positive for COVID-19
Been diagnosed with COVID-19
Shown any of the symptoms above?

Have you been told by any health care provider or Department of Health to self-quarantine or self-isolate due to actual or suspected exposure to COVID-19?
If you answer YES to any of these questions, we will ask additional screening questions.
We understand these times are challenging, and we appreciate everyone's patience and understanding as we navigate as responsibly as we can. Together, we can continue to have amazing experiences while staying healthy and safe.
Featured Blog Post
Lessons 2020 Brought To 'The Rock'

January 4, 2021

How Alcatraz Island Transformed During The Pandemic   The 2020 Pandemic forced the tourism industry into survival mode. In California, attractions and hospitality businesses still face looking for any opportunities to innovate, while …
Alcatraz Island Named #1 Landmark in the U.S.
in 2015 & 2018 by TripAdvisor Reviews