SafeCruise by Alcatraz Cruises
We missed you, and we can't wait to see you on board. At Alcatraz Cruises, guests' well-being is our number one priority. Recent circumstances have only strengthened our commitment to providing the best possible visitor experience from start to finish. We are proud of our excellent safety/sanitation track record and Alcatraz Cruises maintains a rigorous process around cleanliness and hygiene. So, while you can still expect the same high standards and welcoming service, here are the extra steps we are taking to keep everyone healthy.
Our Commitment to Health & Safety
Alcatraz Cruises is dedicated to the health and safety of crew and guests. For the last 13 years, we have been recognized by international organizations and have maintained the ISO 45001 certification for our efforts and focus on the Occupational Health and Safety Management Systems.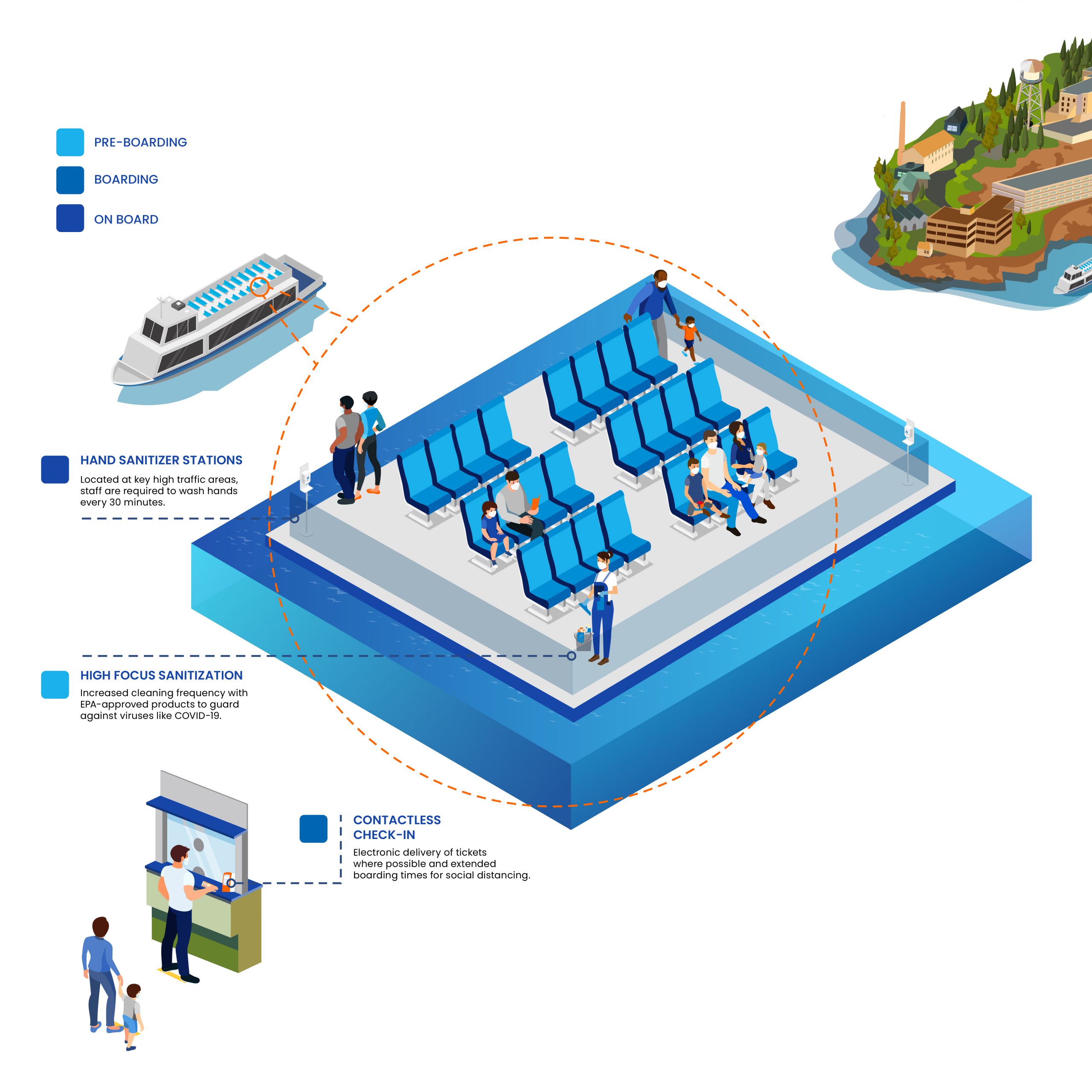 Pier 33, Alcatraz Landing
Extensive crew training, increased hygiene, disinfection, and sanitation practices throughout our facilities.
Crew is equipped with the tools they need to provide increased protection such as gloves, masks, and face shields.
Dedicated cleaning crew throughout the day focused on high-contact areas throughout Alcatraz Landing, Pier 33.
Check-In/Boarding
Contactless ticket booth check-in. Guests with electronic tickets may proceed to boarding area after passing safety screening.
Several portable hand-washing stations are available at Alcatraz Landing.
On Board
Dedicated crew focused on sanitization between each departure, cleaning high-contact areas using EPA-approved products specifically guarding against COVID-19.
Hand sanitizer stations and physical distancing markers are located throughout Alcatraz Landing, on board the vessels, and on the Island.
Alcatraz Island
Outdoor education and interpretive information is on display and located throughout the Island.
Extensive outdoor space allowing for the best vantage points and views of San Francisco Bay.
Alcatraz Island Named #1 Landmark in the U.S.
in 2015 & 2018 by TripAdvisor Reviews