Recommended Experiences
in San Diego
What People are Saying

We were able to take a whale watching tour on the first day of the season and it was OUTSTANDING! My expectations were pretty low and figured we wouldn't see any whales but instead, we saw about a dozen in the open water and even got to see them fluke several times for a deep dive. Incredible! - Maria Healey
I went on a dining cruise on Saturday Night with my husband, and it was a really awesome experience, the food was very delicious. I had the Salmon and my husband had the chicken, and we both had the cheese cake. The waiter and waitress were really nice and professional, also the host was always playing good music, and would also play what other people requested. Me and my husband had a very fun experience and we love it - Omicamy Myers
The experience is so good that I would to go again and again. I am huge fan of San Diego. You can see city's skyline. It is amazing. - Jaimeen Mehta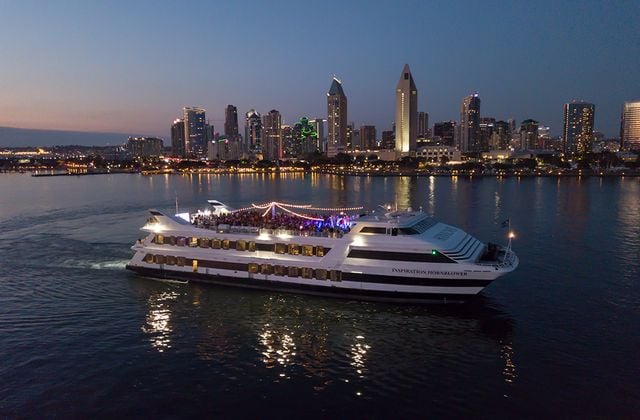 How to Spend Christmas 2023 in San Diego
October 26, 2023
While it might feel like the summer heat was beating down on us just yesterday, the holiday season is in full swing, folks, which means it's past time to start
Frequently Asked Questions
What are the top cruises in San Diego?
More about the best boat tours in San Diego
The best boat tours in San Diego range from dining cruises to harbor tours and whale watching! San Diego is home to some of the best whale watching tours in the world. Dining cruises, including brunch and dinner, are also some of the most popular options. If interested in dining, a sunset dinner cruise on the San Diego Bay is truly unforgettable. You will get to see the skyline and enjoy a three-course meal as the sun sets. Not to mention the Coronado Bridge! For more sightseeing focused cruises, a tour of the harbor is a fantastic opportunity to soak in views and take lots of photos to share.
Are private boat charters in San Diego available?
They sure are! Examples of private boat charters include:
Which landmarks and famous sights can you see on a San Diego cruise?
On a San Diego cruise, you will experience some of San Diego's most iconic landmarks. This includes the Coronado Bridge, Cabrillo National Monument, and the USS Midway Museum. You can also get a great view of the cityscape from your cruise ship. This is one of the best views you can find to see Downtown San Diego!